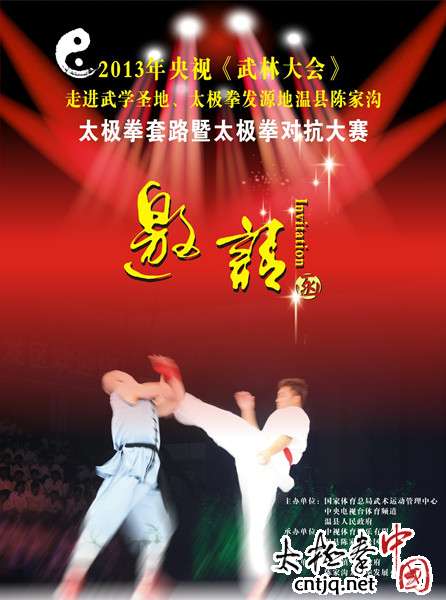 Tai-Chi Chuancounts among the cultural treasures of EastAsia and is one of the most sophisticated Chinese martial arts. More than three hundred years ago, Tai-Chi Chuan originated in Chenjiagou, Wenxian, China, where it was practiced and studied secretly by the Chenfamily.Since then it has spread at home and abroad and branched out into six main styles – Chen, Yang, Wu, Sun, Wu and He. With more than 300 million practitioners today, it has become one of the most popularphysical and mental training systems worldwide. Chenjiagou, the martial arts birthplace, has turned into a cultural center for Tai-Chi Chuan and is now the place many Tai-Chi enthusiasts aspiretovisit. With its renowned schools and top-level martial arts tournaments Chenjiagou will not only keep attracting martial arts practitioners from all over the world but is likely to become the global capital of Tai-Chi culture.

Wushu Masters is the only martial arts television program of the General Sports Administration of the State and China Central Television(CCTV). It promotes traditional Chinese culture,articulatesnational pride and showcases theintricate techniques of Chinese martial artsin atop-levelnational martial arts competition. In 2013 the Wushu Masters seeks to draw attention to Tai-Chi by demonstrating the gracefulness of traditional Chinese martial arts in Chenjiagou. The event is organized by the Wushu Administrative Center of the General Sports Administration of the State, CCTV5, the People's Government of Wenxian in cooperation with CCTV Sports Entertainment Limited, the ChenjiagouWenxian Administration for landscape preservation and the Wenxian Sports Bureau.

The tournament featuresTai-Chi routinecontests and Tai-Chi open fighting competitions.It will take part from April 16, 2013-May 8, 2013 in Chenjiagou,Wenxian,Henan. During the event there will be Tai-Chi seminars by Chen Xiaowang and grandmasters of other styles, a panel discussion on the future development of Tai-Chi, a commemoration of the death of Chen Wangting and further activities as well as celebrations.

This is a call to action for every Tai-Chi Chuan enthusiastwho wants to participate in this exceptional event. For the first time the main representatives of all six styles of Tai-Chi will come together in Chenjiagou to exchange their skills and wisdom. The city of Chenjiagou and the committee of the tournament are looking forward to hosting this martial arts event and welcome all participants.

Organizers: Wushu Administrative Center of State General Administration of Sport
CCTV Sports Channel
Wen Xian People's Government

Sponsor: CCTV Sports Entertainment Limited
The Wenxian Chenjiagou scenic Authority
The Wenxian Sports Bureau

Co-organizer: Zhao advancement of the people's government.
Chenjiagou Taijiquan Development Co., Ltd.

Registration deadline: April 1, 2013

Address: Huanghe Road, No. 4, Wenxian, Henan Province, Wenxian Sports Bureau
Zip Code: 454850 e-mail:
wxtyjwsk@126.com
Phone 0391-6192544 18739116209
Fax 0391-6125752
Contact: JiWill Min Li Xu Dong