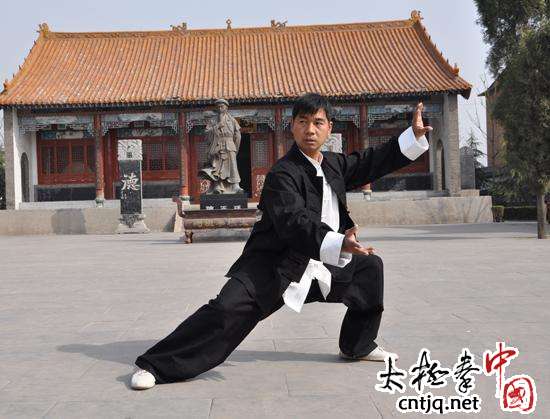 Mr. Zhang Fuwang who is from Chen Village was born in 1971,Chinese martial arts in seven, a top referee and boxer,elite coaches of Henan Province, the outstanding umpire. Incumbent Wenxian County CPPCC members, Wenxian County Martial Arts Association executive director, Henan Province Tai Chi Association, Chenjiagou Kung Fu museum curator and head coach.
Henan Chenjiagou Taijiquan is the birthplace of the ancient nations, come forth in large numbers. Mr. Zhang Fuwang martial arts is under the guidance of his contemporary Tai Chi Master Wang Xian. Working hard, doing painstaking research, he has a good command of the system of the Chen Style Taijiquan ,including various exercises, theory. It is well known for its mighty style, calmness, deep skills, morality, which enables him to be elected as one of the Chenjiagou Taijiquan" 8 big kings".
Mr. Zhang Fuwang in Henan Province Tai Chi cut a striking figure In 1992, winning 60 kilogram level championships. Subsequent victories came afterwards, the 5 annual Henan Province Tai Chi Push Hands competition, sword, 60 kilogram level Championships, 60 kg class champion in the three annual international Taijiquan Tournament.And won several Taijiquan, sword, pushing the champions in national, provincial and municipal competitions. Since 1998, he has done referee work acted as the referee,platoon leader, chief referee for many times in various martial arts competition. Ever since 2002, he has given excellent performances in Chenjiagou Taijiquan Invitational, Jiaozuo international Tai Chi Competition, Shenzhen International Culture Fair, the fourth Beijing 2008 Olympic Cultural Festival and other large activities,with a CD recorded. In 2007, he acted as the representative of Henan Province Taijiquan with the cultural delegation to the United States for a friendly visit. The same year, non-material cultural heritage series" Tai Chi" was published, with more personal boxing pictures included in the book,one even chosen as the cover. Mr. Zhang Fuwang individual achievements were recorded in" Chinese martial artist code"," Tai Chi Chi"," Chinese talents." and many other seminal books,with specialized reports on the CCTV 1, 4, 5, 7, 10, Henan, Beijing, Tianjin and other provincial satellite TV, Seoul TV, and South Korea France three TV, Henan daily, Jiaozuo daily, Shenzhen daily news and other news media.
Mr. Zhang Fuwang is devoted to the exploration of Taijiquan mystery at the same time, is also committed to Tai Chi dissemination and talent cultivation. Over the years, he was invited to preach throughout the fist Shouy and becauseof this, he is respected,and hired as consultants, head coaches and other staff.In 2003, in Chenjiagou he founded Chenjiagou Kung Fu Museum, with students throughout the country and abroad. While teaching boxing I, he wrote reams, author of" Tai Chi" in one book, and successively published many articles in various martial arts magazines.In addition, he also published" Chenjiagou Kung Fu" and other teaching CDs.