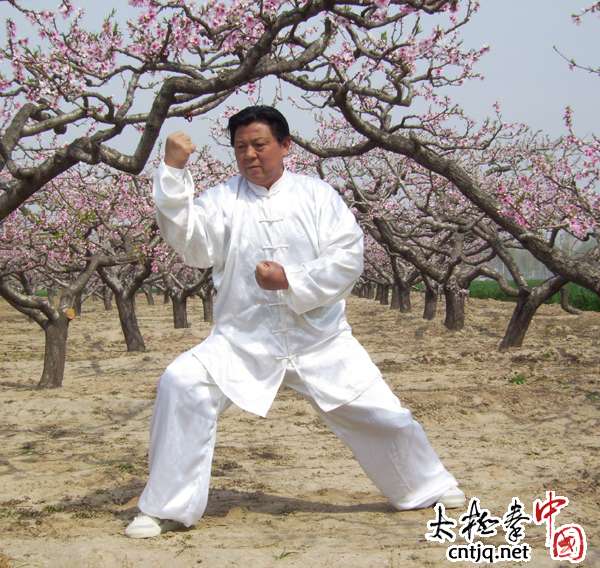 Mr Zhu Laohu, the 10th generation exponent of Chen Style Tai Chi, who is well known as the International Tai Chi Culture Dissemination Ambassador, is also an martial art specialist of the Chinese Classics Study Committee.
Master Zhu Laohu: male, Han nationality. He was born in March,1951 in Wen Xian County, He Nan province. He is now the chairman of Wan Yan Tai Chi Institute of Chen Jiagou, Wen Xian County, and the principal of Zhu Laohu Tai Chi Kung Fu School.
He learned from his grandfather Wang Yan at an early age, and the subject he'd learned included the Traditional Routine Exercise One(Lao Jia Yi Lu), Traditional Routine Exercise Two(Lao Jia Er Lu), the Wang Yan Exclusive Kung Fu Routine Exercise, the broadsword routine, pike routine, sword routine and stick routine and so on. He is expert in Kung Fu skills as inner qigong energy, pushing hands and combat. He's been reported by many medias and invited as the martial art consultant of several martial art organizations. Ever since 1972, he's been teaching Tai Chi in He Nan, Jiang Su, Qing Hai, Shan Dong, Zhe Jiang, Inner Mongolia, Shan Xi, Fu Jian, Guang Dong, Shen Zhen, Shen Yang in China; and for overseas, Korea, Japan, Italy, Scotland, England and the US. Lots of international apprentices learned from him have gained National Martial Art Level 5, Level 6 or Level 7. Many apprentices that have finished their courses are now teaching Tai Chi in various ways in numerous places.
In the spirit of inheriting and spreading traditional culture, and benefiting the public with the cultural heritage passed down from the ancestors, Master Zhu Laohu has speared no effort to make his own contribution to the spread and popularization of Chen Style Tai Chi. He started the Wan Yan Chen Style Tai Chi Institute of Chen Jiagou, Wen Xian County in 1996, and established his own school in 1999. In 2004, one of his branch institutes was established in Xiu Wu County, Jiao Zuo, He Nan Province. In 2005, he opened a Martial Club named Green City in Dong Guan, Guang Dong Province. In 2006, he opened pushing hands clubs in Shen Yang, Liao Ning Province and Xin Xiang, He Nan Province; and at the same year, his Korean student started a Zhu Laohu Tai Chi Institute in Daegu, Korea. In 2008, 2009, 2010 and 2011 four branch schools were opened respectively in Da Qing, Hei Long Jiang Province, Shen Zhen, Guang Dong Province, Jing Cheng, Shan Xi Province and Zhang Zhou, Fu Jian Province.
Besides teaching and establishing schools in different places, Master Zhu Laohu has also published lots of articles and books about Tai Chi theories. He won the first prize in National Martial Art Performing Meeting in 1997, and was interviewed by the martial art magazine Annals of Martial Arts of Guang Xi Province afterwards. His thesis On Using Muscle Power or Inner Energy, A Brief Discussion on Letting In and Hitting Out in Pushing Hands, and The Spiral Strength and The Reconciling Strength of Tai Chi were respectively awarded the first prize in the first International Tai Chi Seminar in 2009. His calligraphy work Sing Tai Chi was collected in the calligraphy exhibition of the seminar.
In 2006, Master Zhu Laohu was awarded Grand Master by China Sports Annual. And in 2009, he was awarded the Golden Collar Dissemination Ambassador of International Tai Chi Culture. In the same year, he was invited to give lectures in Korea, and was engaged as the permanent specialist of the Korea Tai Chi Institute. In 2010, Master Zhu Laohu participated in the shooting of the documentary by the Ministry of Culture, and the scenic spots documentary of Jiao Zuo, He Nan Province by CCTV. Till now, audio-visual product he has published include Tai Chi Course, Wang Yan Exclusive Kung Fu Routine Exercise, Pushing Hands, Tai Chi Masters Across China————A Tiger on Rivers and Lakes. His experiences and stories were exclusively recorded in Martial Art Specialists Across China, Martial Art Annals of He Nan Province, Celebrity Annals of Tai Chi, Dictionary of Tai Chi of China, Tai Chi Encyclopedia of China.
Master Zhu Laohu is mild, broad-minded and unconstrained. He emphasizes traditional culture education and pays less attention to fame. He was respected for his Kung Fu skills and his morality. He also has unique research in The Book of Change and the traditional Chinese medicine. His calligraphy looks powerful, vivid and majestic, which has been collected by his students and calligraphy circle friends.
Tel: 03916411129
Mobile: 13839149813 / 18639910981
E-mail: zhulaohutaiji@126.com